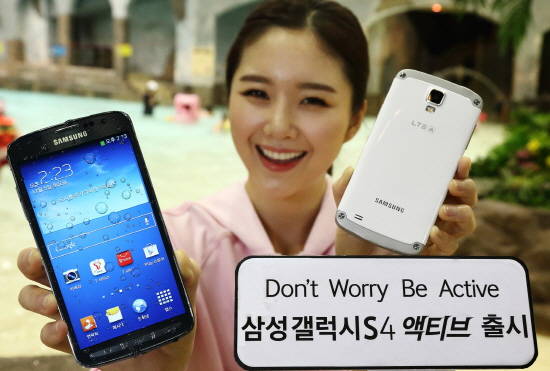 - Samsung strategy related to waterproof and dustproof function returns to the Galaxy S4 ... A separate model, the 'Galaxy S6 Active,' is under development
By Yun Sang-ho, Digital Daily
crow@ddaily.co.kr
Samsung Electronics has given up waterproof and dustproof function for its new 'Galaxy S6' and 'Galaxy S6 Edge' smartphones, it was confirmed yesterday. Instead, it will produce a specialized product with the feature, which is similar to the 'Galaxy S4.'
According to Samsung and other sources, the Galaxy S6 and Galaxy S6 Edge phones, now being developed by Samsung, do not support waterproof and dustproof function. The company is developing another phone with the function, the 'Galaxy S6 Active.'
"The Galaxy S6 and the Galaxy S6 Edge are not waterproof and dustproof phones," a Samsung official said, adding that "the company will cope with the problem with a separate project."
The Galaxy S series are Samsung's flagship smartphones. The company mounted waterproof and dustproof function on its Galaxy S phone for the first time in 2013--the Galaxy S4 Active. Belonging to the Galaxy S4 family, the Galaxy S4 Active was targeted for people with lots of outdoor activities. The Galaxy 5, a universal phone unveiled in 2014, also supported waterproof and dustproof function.

Samsung's decision to mount waterproof and dustproof function on a specialized product, instead of a universal phone, seems to be related to its consideration for efficiency and cost. It was pointed out that waterproof and dustproof feature of the Galaxy S5 phones had lowered the efficiency in the production and increased after sales service cost, which could harm Samsung's competitiveness in the market. The change in the strategy concerning waterproof and dustproof function indicates Samsung's intention to attract consumers of waterproof and dustproof phones with a new, separate product, while maximizing the profits from the Galaxy S6 and Galaxy S6 Edge phones.
Meanwhile, Samsung Electronics will reportedly unveil the Galaxy S6 and Galaxy S6 Edge phones at the Samsung Unpacked, which will be held immediately before the 'Mobile World Congress (MWC) 2015' in Barcelona, Spain. The two phones will be on sale during the first quarter of this year. Both the Galaxy S6 and the Galaxy S6 Edge phones will have a metal trim and a glass body covered with tempered glass on the front and back sides.